Trail Inventory, Planning, and Construction at Cove Mountain Preserve
---
Cove Mountain Preserve is located in the heart of Pennsylvania's
Kittatinny Ridge
, a 185 mile long migratory corridor identified as climate resilient by Nature Conservancy scientists. The Conservancy has helped to coordinate a collation of conservation organizations and local stakeholders to champion protection of this essential landscape. Purchased and permanently protected spring of 2017, Cove Mountain Preserve stands as an education site and flagship for the greater conservation effort.
Historically harvested for timber, the property contains a maze of overgrown logging roads winding throughout its forests. While some of these were already being used by the local community as informal hiking paths, the need was identified to establish a system of sustainable maintained trails. My role was to develop and implement this network of trails.
A volunteer collects photo-waypoints for a management feature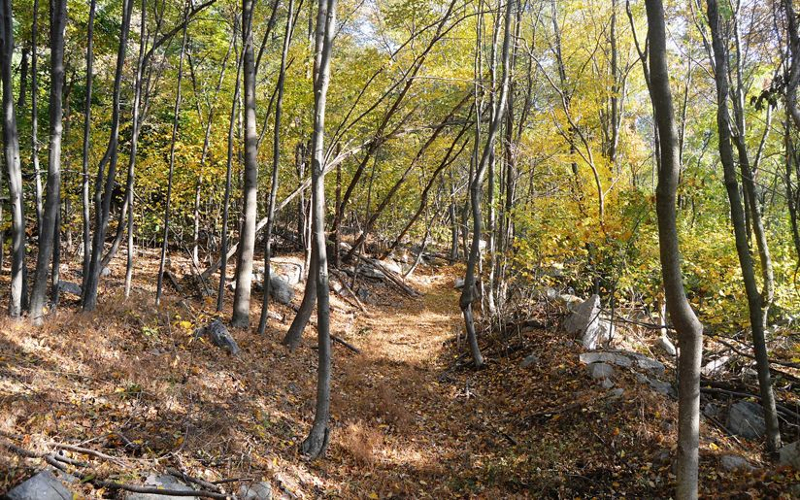 Retired logging road - Photo credit: Shawn Hickey/The Nature Conservancy
Photo credit: Shawn Hickey/The Nature Conservancy
Community residents were invited to assist in this project and trained to use the free data collection application
Avenza Maps
. Volunteers translated their local knowledge into geospatial data by creating an inventory of logging roads with GPS tracks and mapping key features or management issues with photo-waypoints. With this information conservation staff were able to design an informed trail plan.
Summer of 2017 I coordinated and led seven volunteer workdays to map out and construct these trails. With the help of nine volunteers, by September two trails were cut, blazed, and ready for guided hikes at preserve's opening celebration.
Trailhead with preserve map in kiosk - Photo credit: Gates Rhodes